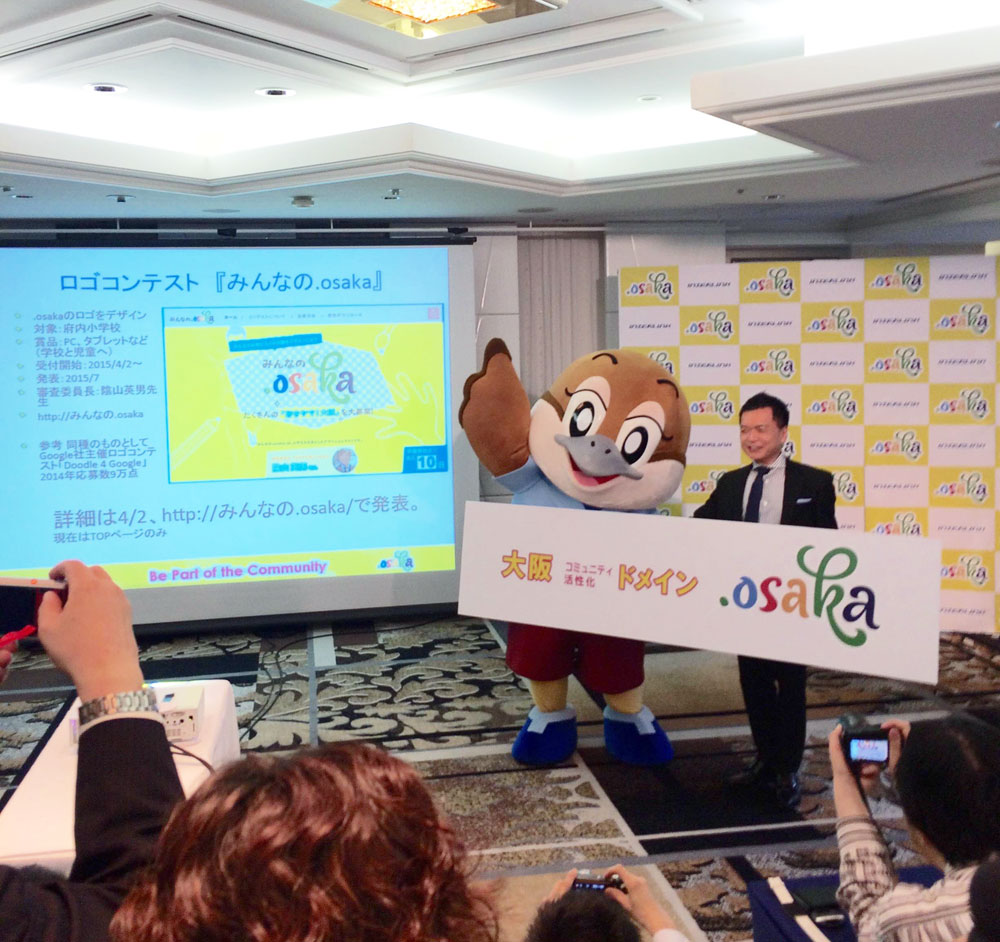 2015/03/19 – the Osaka Registry announced the launch of .osaka to the general public at a press event at the New Otani Hotel in Osaka city, Osaka, Japan.
We were honored to have Osaka's very own mascot character, Mozuyan, join us at the event to show support for Osaka's very own Internet extension.
We have been hard at work building .osaka over the last couple of years, and the opening up of the registry to the general public represents a huge step forward in our goal to create a TLD that directly benefits the Osaka Community.
Akram Atallah, President of Global Domains Division, Internet Corporation for Assigned Names and Numbers (ICANN) shared the following message with the registry and the Osaka Community.
"The New gTLD Program is ushering in the biggest change to the Internet since its inception. In 2012, ICANN received 1,930 applications for new gTLDs. Today, over 500 new gTLDs have been introduced into the Internet, more than 40 of which are geographic gTLDs.
ICANN congratulates the Osaka Prefecture and Osaka Registry on launching a dedicated online platform for the Osaka community, which will provide new opportunities to bring people, communities and businesses together."
The Registry initially launched ".osaka" for Trademark holders on February 9th, 2015. During this period, many global companies such as Apple, Amazon, Nike, and GAP registered domains corresponding to their trademarks.
The initial public launch, known as the "Landrush" is for early adopters who want to get a hold of high quality names. Anyone who has a connection to Osaka can register a name in this period via a participating registrar. The Landrush registration period will run from March 19th 2015 (02:00 UTC) to March 31st, 2015 (22:59 UTC).
Now's your chance to get your very own .osaka domain name!